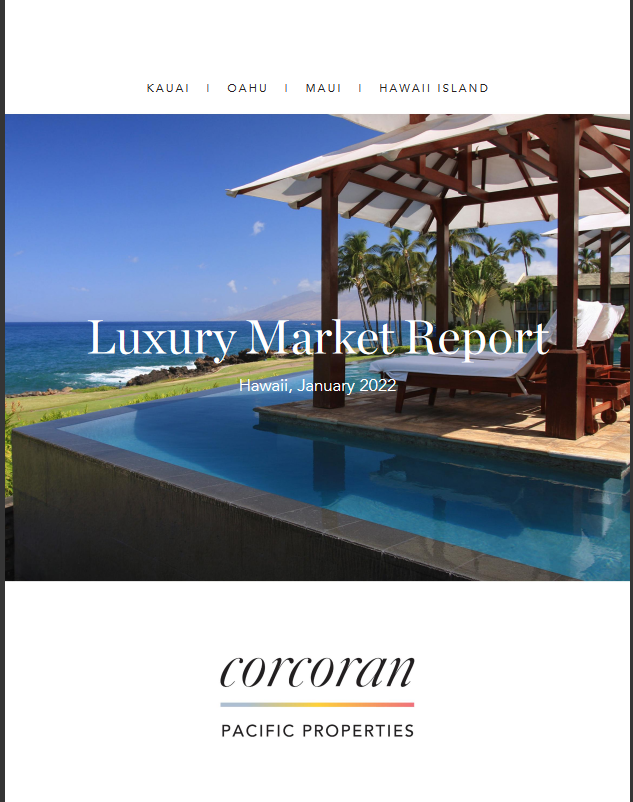 Corcoran Pacific Properties is pleased to present a closer look at the luxury real estate market in Hawaii, showcasing detailed statistical analysis of Kauai, Oahu, Maui, and the Island of Hawaii for December 2021.
As we close out the year of 2021, one word comes to mind to describe the luxury real estate market in Hawaii: "phenomenal"! The growth of this sector of the market has truly been astonishing to witness during the last year, especially for the attached market.
While 2020 had seen a significant increase in demand for single family homes, the attached property market saw little activity as the affluent shied away from densely located properties.
When travel restrictions for entering Hawaii were lifted on October 15, 2020, the single family property market exploded. Trends show that the next 15 months consisted of high demand, a record breaking number of sales, and declining inventory levels – all of which resulted in ever increasing price points.
At the end of 2021, in comparison to 2020, the median luxury single family sold price increased by 7.8%; after an already strong year in 2020.
The luxury attached property market started to rebound as more people were vaccinated and the vacation season arrived. Trends show that as of April 2021 the number of properties purchased grew steadily and, compared to their corresponding months in 2020, sales were 200% higher on average.
In a similar trend to the single family market, as demand increased for attached homes, inventory levels dropped. In turn, this drove prices up each month. At the end of 2021, compared to the median sold price in April 2021, prices have increased by 13.4%.
Overall, the Hawaiian luxury market has gradually started to slow and there has been a gradual return to a more typical seasonal variation over the last few months. Expectations for 2022 anticipate that seasonal trends will continue, with the spring market seeing more properties enter into the market.
Second home purchases by the affluent are forecast to be in vogue for 2022, which, together with the return of the tourist, will drive the luxury real estate market. Hawaii offers the perfect fit for the wealthy's changing priorities, which have moved away from just a vacation property to becoming either their permanent residence or a second primary residence.
As always, a real estate expert familiar with local trends is the best resource to navigate a specific market.
To view the full report, please click here.