Cory Mira, REALTOR-Salesperson for Kauai Properties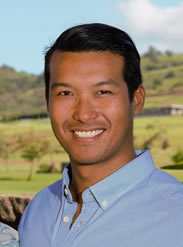 Cory became a Hawaii real estate agent in 2016 to assist his dad, Tim.  Before returning home to Kauai to become a realtor,  Cory worked in Oahu as a sales rep for Verizon and as a music entertainer.
Spending a semester studying abroad in Barcelona, Spain is one of his life-changing moments. Traveling beyond the shores of his island home helped broaden his perspective and to appreciate other cultures.
Upon completion of his semester in Spain, he stayed a few more months working in Fregene, Italy.
After his time in Europe,  Cory returned to Hawaii to finish his college education at the University of Hawaii, Shidler College of Business where he earned a Bachelor's degree in Marketing.
Cory keeps the TEAM balanced with his effective collaborating style and charismatic personality.    Like Tim and Christyl, he has life-long island knowledge and a broad network of Hawaii resources.
Coming from a family of musicians,  Cory is also a  favorite Kauai musician and currently entertains at various local venues throughout the island.
When not working,  Cory is surfing, kayak-fishing, or working out at his jiu-jitsu dojo.
Being a 5th generation Kauai son,  Cory certainly values and understands the underlying culture that makes Kauai so special.
Contact info:  Phone:  808.635.7809 or Email:  Cory@KauaiPropertySearch.com
Search Kauai Real Estate Now
This website gives you access to all the currently active and contingent Kauai MLS listings. Start searching now or create a FREE Search Tools account!
Ready to get started? Contact us today and we'll show you properties that fit your needs and budget.
Or you can search Kauai home listings right here on the site!