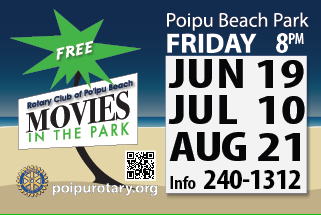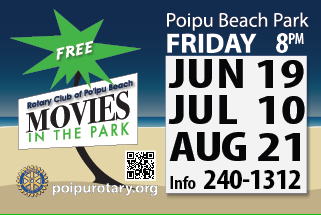 Rotary of Poipu Beach Hosts Movie in the Park
Date: July 10, 2015, FRIDAY
Movie: SPY KIDS
Where: Poipu Beach Park
Cost: FREE
The public is invited to attend the movie as part of the Koloa Plantation Days, free of charge, at Poipu Beach Park. Film will start after dark, at approximately 8:00pm. For your convenience, Koloa School will be offering food concessions to help support their after school programs.
Note: Come early. This is a popular event. Bring low beach chair or mat. (Don't bring a high back chair that will block the view of someone in back of you. Live Aloha.)
Mahalo to the Poipu Rotary Club for hosting this event, along with the many other sponsors and volunteers.