Christyl Nagao, REALTOR-Broker on Kauai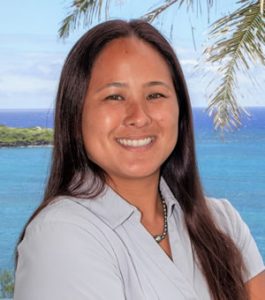 Christyl became a Hawaii Realtor in 2013 and obtained her Broker license in 2018.   However, her career in real estate started well before 2013, as a property manager for short and long term properties on Kauai.
Behind her calm and endearing personality is a very dedicated and passionate Realtor.
Active Leader in Kauai Board of Realtors
When not working with her clients, she is actively engaged as a  board member for the Kauai Board of Realtors and as a member of the Kauai Board of Realtors Property Management Committee.
Christyl is also a 2019 graduate of the Hawaii Association of Realtors Leadership Academy and is currently furthering her real estate education through Cornell University online classes.
In addition to the required real estate continuing education courses, Christyl maintains her accreditation as a Real Estate Negotiation Expert, RENE.
Pursuing all things "real estate",  she is also a real estate investor and entrepreneur.  When not involved in real estate, Christyl spends some of her time working as a Crisis Intervention Advocate for the YWCA.
Christyl loves her island home and enjoys sharing it with her ohana.
But, she also loves travel adventures with her daughter.  However, they both agree that there is "no place like home".
As a life long, 4rd generation Kauai resident, her local knowledge and contacts are a priceless asset to her clients.   "To be able to do what I love, in a place that I live is truly a blessing" -Christyl 

Contact info:  Phone:  808.639.0207 or Email:  Christyl@KauaiPropertySearch.com
Search Kauai Real Estate Now
This website gives you access to all the currently active and contingent Kauai MLS listings. Start searching now or create a FREE Search Tools account!
Ready to get started? Contact us today and we'll show you properties that fit your needs and budget.
Or you can search Kauai home listings right here on the site!